In my first blog post about Cloud PBX (Cloud PBX with Microsoft Teams Basics – Part 1) I wrote about some basics and switch between classic telephony and Cloud PBX telephony. In my second post, I want to write about the different deployment options with Cloud PBX in Microsoft Teams.
Deployment options
When the decision is made use Cloud PBX with all the benefits it needs to think about the best deployment model. In most cases, the best option is to use the cloud only model, but there are some use cases you can not cover.
To use Cloud PBX there are 3 really options and one fallback:
Cloud only model
Could PBX with local (or hybrid) infrastructure
Could PBX with local (or hybrid) Skype for Business infrastructure
stay onPremise (not really Cloud PBX 😉 )
Before we start to take a detailed look in the different deployment models it is important to know which different use cases we can build with the Microsoft Cloud PBX solution.
PBX use cases
Use cases with a telephone?  Maybe you think I'am crazy, but if we take a deeper look in business we find very fast a lot of use cases they not named "Call another person". In Microsoft Docs library we can find an overview of the features we can build with the Microsoft Cloud PBX solution (https://docs.microsoft.com/en-us/microsoftteams/here-s-what-you-get-with-phone-system).
For the most medium-sized companies, the features of Cloud PBX complete there use cases. But maybe there are some special use cases you don't know, and when you start to role out some employees are confused about a missing feature and you will lost there on your journey.
Let's take an example: Most time the team assistant is working in front office. In the morning, at lunch and in the late business hours the team assistant runs through the house and take a look in the meetings rooms for food and drinks, need a talk with another employee about the next business trip and much more. At this time nobody is at the front office desk and receives incoming calls. With the classic way, the team assistant takes the mobile device and all calls will redirect to a mobile telephone. With Cloud PBX all numbers are combined with a user account, and the old phone is no longer usable.
At this point, you need a solution before rolling out the new cool stuff named Cloud PBX 😉 The classic hardware no longer compatible with Cloud PBX.
This is only a small example, but it will frustrate your employees and your customer because nobody is available.
Microsoft has populated a Practical guidance for large organizations. Please use the guidance and be sure to have a talk with all the different person groups in your company.
Deployment options
Cloud only model
With the Cloud only model, there is no need for any specific hardware at your office rooms. All the features you get from Microsoft. All users connect with there Azure AD account to the Office365 service Microsoft Teams. With the Microsoft Teams license in combination with the calling plan + Cloud PBX license, the users can use the PBX system from Microsoft. In this case you don't need specific hardware in your datacenter and all features will cover by Microsoft.
In the personal client, the users find a calling tab with all calling features and the personal telephone number (all personal data censored). All Incoming calls end in the client, on mobile phone ore maybe at your tablet.
requisites for use:
calling plan is available in your region
all features you need are available in Cloud PBX by Microsoft
no must binding to your telephone provider
Could PBX with local (or hybrid) infrastructure
With this deployment model, you build a hybrid cloud PBX environment. In this scenario, a session border controller is used to connect your classic telephone system with Microsoft Teams Cloud PBX system. You can use this model to different scenarios:
you will make a smooth migration from your old system to a new one
there some specific uses cases Cloud PBX is not ready yet
you need a SIP trunk to Cloud PBX
Maybe now you think "and now I have another hardware in my datacenter"? It's not correct, you can use the Session Border Controller from Azure. An example is Audiocodes. There are some other solutions, but important is the certification for Microsoft Teams and/or Skype for Business. The certified provider has a special agreement with Microsoft and develops and tests all new releases hand in hand with Microsoft.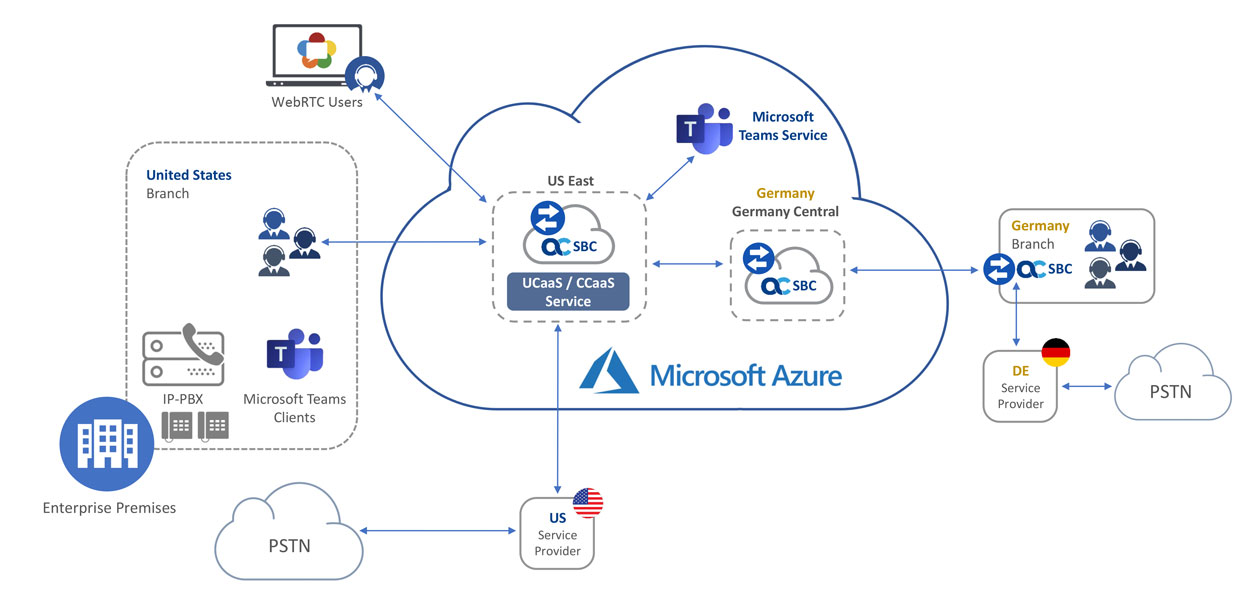 Example of infrastructure with Audiocodes.
requisites for use:
Cloud PBX is not available at your region
special requirements at your telephone solution
connect analogous devices
Could PBX with local (or hybrid) Skype for Business infrastructure
From my point of view, this model is out of date. If you would like to switch to cloud PBX you should use Microsoft Teams. (End of life)
Microsoft recommends this solution for the following scenarios:
You want to use Skype for Business Online for your users
PSTN Calling Plan is not available in your region
You need to retain your current PSTN carrier
In my point of view, please do not implement this solution!
requisites for use:
Cloud PBX is not available at your region
no change of your telephone provider
special requirements at your telephone solution
Stay onPremise (not really Cloud PBX 😉 )
Stay onPremise is not an innovative solution, but in business, there could be a good reason to stay onPremise. Some reason why it is possible to stay onPremise:
Compliance governance
bad connections to the next cloud provider
house development with no chance to switch
In onPremise case, you should check periodically the chance to switch in model two. Maybe there is a chance in the future to build a hybrid solution and you can update to a newer version with newer features to support your business cases.
Summary
I hope you get a short overview of options to deploy your cloud PBX solution.  The post describes only the very very basics. For a detailed look, you should use the documentation at Microsoft Docs.
In the next post, I will give a look at the license model and the road to implement Cloud PBX with Teams in your company.
Feel free to comment, ask questions or give some other input 🙂
Sources and more